Right, back to the banqueting bullshit.
JC's puzzler is sore from puzzling. He just can't understand why Anita might be scared of a force of ultimate evil.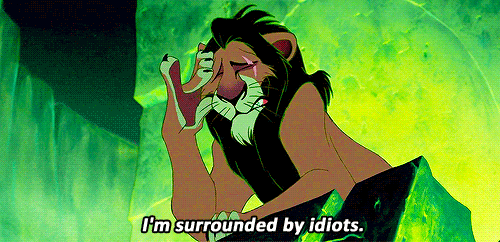 JC, go read the Vampire Chronicles that Mother of All Darkness was stolen from inspired by. You'll see how much of a threat she can be.
Jean-Claude turned me in his arms as he moved to face the voice, making it a dance-like movement, ending with my left hand in his right. Our outfits were designed to move and flow like some Goth version of Fred Astaire and Ginger Rogers.
Wearing black does not make you goffity goff goff. JC, Anita, and Asher hold 'hands like children' (stop it stop it stop it) and then… walk to another room, I think. It's so very vague.
Valentina's outfit was a miniature seventeenth-century dress with the skirt flared out to either side so that she was shaped like an oval. The skirt was very full and gave glimpses as she walked of tiny gold slippers and numerous petticoats. She even had a white wig that hid her brunette curls from view. The wig looked too heavy for that slender white throat, but she walked as if the jewels and feathers and powdered hair weighed nothing.
Are feathers noted for being made of lead?
She had absolutely perfect posture, but I knew that was from the corset that was under the dress. Those dresses don't fit right without the proper undergarments.

There had been no need for powder to make her skin white, rouge and red lipstick had been enough. Oh, and a black beauty mark in the shape of a tiny heart near that rosebud mouth. She should have looked ridiculous, but she didn't. She was like a sinister doll. When she flipped open her gold and lace fan with a sharp snap, I jumped.
And you're saying that this is a dress most definitely from the seventeenth century.
LKH is describing Valentina as looking like this –
Yeah, that's the eighteenth century. You are a full one hundred years out, dweebus. The seventeenth century is the 1600s, when women were looking like this….
Although, of course, this is a massive sweeping aside of many changes and nuances of fashion within the seventeenth century – which I have covered before – but this is just a silly mistake that any editor with a braincell should have caught.
Valentina and Anita then start swapping stuff about the Mother of All Darkness. It is truly thrilling. It is so thrilling that I am cooking chilli chicken wings so that I can escape from all these thrills. Apparently, BM has touched the Mother as well. Valentina says that the surprise guests are sure to be surprising, and then starts talking about the 'darkness' and how her nurses saved her from the darkness and then died.
This all has the same emotional weight and impact as a grapefruit.
Asher starts fretting about Muesette, so Anita complains about him trying to get everything back on track.
I closed my eyes and counted slowly to ten. When I opened them, they were both giving me their best blank faces. It was like looking at two superb paintings, suddenly made three-dimensional, very lifelike, but not alive.
ARGGGGGGGGHHHHHHHHHHHHHHHHHHHHHHHHH
Damian then comes into the room. When was the last time he was mentioned? Who gives a shit about him?
He had not volunteered to be one of Jean-Claude's pretty men. Damian was a touch homophobic. Boy, had he fallen in with the wrong bunch of vampires.
…. what.
Damian is your servant, so no, he wouldn't volunteer. Because his mind is enslaved to you, Anita.
We have never seen Damian be homophobic.
In fact, the character we have actively seen be incredibly homophobic is YOU, Anita. You, who finds the idea of two men or two women being together disgusting.
So, Damian doesn't enjoy sex with men. That does not make you homophobic. That just means – gasp – that he isn't interested in having sex with men.
I'm not particularly interested in having sex with other women. Does that make me homophobic? Hmm?
I dunno, you all seem pretty homophobic and hateful. Actually, yeah, that does mean he's with the wrong vampires.
Damian has arrived to announce that Richard and the wolves are here. They are late because someone had to fix Richard's hair. The story has now been amended to say that he hacked it off himself and everyone starts whining and weeping and wailing about Richard not having long hair any more.
It wasn't any of my business what length his hair was. My concern was that sane happy people don't hack their hair off at home with scissors. Cutting your hair like that is usually a substitute for hurting yourself in other more permanent ways. Any counselor will tell you that.
I dunno, maybe he's acting out of trauma from when you decided to rape him. Either way, Damian is on his knees, wailing about Richard's hair, and everyone else is up in arms about this 'mutilation'.
It's hair. It's just hair.
Anita immediately forgets this great pain and worries about how Musette doesn't think she really wants to fuck Asher. Nathaniel then walks in dressed like a mummy.
Nathaniel's outfit was mostly cream colored strips of leather that covered almost nothing. A white thong covered his front, but left his buttocks bare.
Well, yeah, that's what a thong does. You don't have to explain it to me.
He had cream colored boots that were over the knee but open in back, so you got glimpses of his legs to mid-calf when he walked away from you. There was a three-inch heel on the boots, and Nathaniel knew how to make the heel work for him.
That's just fucking tacky. Ew. That's not sexy. Merle is also with him and he's angry. Paolo has been groping people, and this is bad because only Anita's friends are allowed to sexually assault people at this party.
Are the murders and corpse raising ever going to be addressed?